Glass & Waterproofing For The Grand Strand
Welcome to Glasstec, Inc., the most diversified Myrtle Beach glass and restoration company in the country. Since 1992, Glasstec has served the glass and waterproofing needs of hi-rise, mid-rise, and low-rise building owners along the Grand Strand from Hilton Head to Little River. Extensive experience in both trades has allowed us to witness the vital relationship between glass systems and envelope waterproofing. With the knowledge of how the trades interact, our cross-trained team is ready to provide and maintain a watertight system for your envelope. Avoid the pitfalls of companies who focus only on their trade with no regard to the integrity of the system as a whole. Time and time again we witness waterproofing technicians caulking over glazing system components or glass installers slicing caulk joints while installing their products, both leading to failure of the waterproofing system.
Since 1992, building owners in Garden City, Myrtle Beach, North Myrtle Beach, and all areas in between have reached out to Glasstec to trouble shoot their leaks. Our specialized team has responded with experience and knowledge to identify the problem and our skilled technicians have provided the know how to solve it with the best commercial construction products in the industries. Whether it's new construction, leak investigation, maintenance, major restoration, or just a facelift Glasstec will do it right the first time. Maintenance of your structure should be your top priority in all environments but especially in the harsh oceanfront environment of the Grand Strand. Too often owners and building managers neglect to inspect and maintain their envelope on a regular basis, which leads to reacting to big problems instead of preventing little problems. It's easy to overlook the gradual damage sun and salt can cause for sealants, coatings, concrete, glass and aluminum. Glasstec has the equipment and expertise to inspect all components that make up your envelope from concrete, stucco, EIFS, windows, doors, storefront, curtain wall and all the joints in between.
Don't let Mother Nature ruin your investment when we stand ready to help you inspect, maintain, and repair little issues before they become huge costly problems. Whether new construction, restoration, preventative maintenance or an emergency call, we're not far away.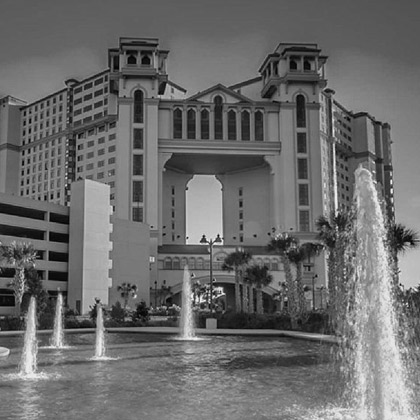 GLASSTEC IS A MYRTLE BEACH GLASS COMPANY THAT INSTALLS AND REPAIRS GLASS AS WELL AS HANDLES WATERPROOFING. THE MAIN SERVICES THAT GLASSTEC OFFERS ARE ALUMINUM, GLASS & GLAZING, WATERPROOFING, RESTORATION AND BUILDING INVESTIGATIONS & ASSESSMENTS. SINCE 1990, GLASSTEC HAS PROVIDED THE GRAND STRAND OF MYRTLE BEACH WITH ALL OF THEIR GLASS SERVICES. FROM LARGE HOTELS TO RESIDENTIAL HOMES, GLASSTEC CAN HANDLE ANY GLASS OR WATERPROOFING JOB BIG OR SMALL. GLASSTEC IS LOCATED AT 3833 SOCASTEE BOULEVARD IN MYRTLE BEACH, SOUTH CAROLINA.